Maqueline "Maquie" Weiss
Mount Vernon senior Maqueline "Maquie" Weiss is not afraid to think, do, and be. As a leader in school, her community and even nationally, Maquie is blazing a trail of servant leadership.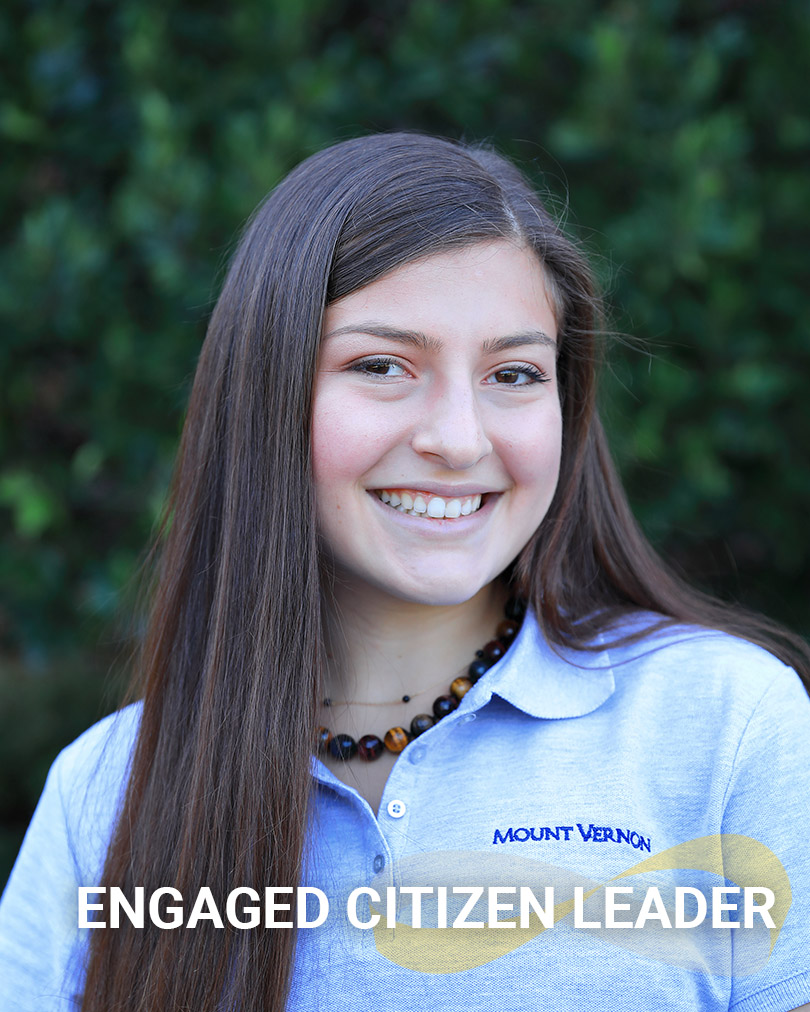 When I came to Mount Vernon my freshman year, I revered the prefects and thought they were such an amazing group of student leaders. By my second year at the School, I knew I wanted to be a prefect
 because I wanted to be the kind of role model that I once looked up to. I was determined to become the Ambassador Prefect,
 because I knew I had the ability to be able to train tour guides to be their own leaders of the School. I was also confident in my ability to speak in public, which would have to be done during our Open House, and communicating with parents and other adults during the Admissions season. I came to Mount Vernon because of the tours and open houses I attended, I didn't even shadow, but it was those events that brought me here and I wanted to be able to have a part leaving an impact on others that had the potential in coming to this amazing school."

Maquie Weiss
National Panelist at EDLEADER21
A member of the Innovation Diploma's Pixar cohort, Maquie is making headlines. She was one of five panelists speaking about transformational education at the EdLeader21Conference in Atlanta. Host and EdLeader CEO Ken Kay shares, "We're honored to work with so many dedicated district and school leaders who are doing some amazing things to ensure all students are prepared for success in college, careers, and citizenship in the 21st century." Maquie shares, "Mount Vernon has taught me not only the innovative skills that will prepare me for the future of education, but also how to be a caring and warm person. At our school we pride ourselves in living our mindsets, which I know I am well versed in, but also in being genuine nice person. From class experiences and Innovation Diploma I know I can think outside the box, be creative, communicate, network, and come up with various solutions.  However, I can also have intelligent discussions, lead others, and create long lasting bonds with my teachers and peers."
Serving Atlanta
Recognized for giving back to our community, Maquie was featured in the December 2017 issue of Perimeter North Lifestyle magazine. Reprinted with permission from Lifestyle Publications:One thing to make the world a better place: Ideally, I would love to see a cure for Type 1 Diabetes in my lifetime, but knowing that others are afflicted with other diseases, I would like to see increased funding and medical research for various diseases; therefore, benefiting humanity at large. Impressive doesn't begin to describe this self-proclaimed girly-girl senior at Mount Vernon Presbyterian School. Having Type 1 Diabetes, she really doesn't let anything stop her. And although she may be wearing the most fashionable heels in the room, her real power comes from the ambassador and lobbying work she does on behalf of Juvenile Diabetes Research Foundation. She's raised over $100,000 and won an Honorable Mention for her documentary about Type 1 Diabetes for CSPAN. Maqueline was chosen as an Educational Leader 21 student panelist and presenter in the topic of 21st century learning, one of the five students around the nation chosen to cover the power that students have in their community and how much real world work they can do. She loves to be a daredevil on her Sea-Doo on Lake Lanier and cook with her family of "real food foodies".
Future-Focused
"Being a Type 1 Diabetic,  I aspire to be a pediatric endocrinologist specializing in Type 1 Diabetes. Since I was diagnosed, I have looked up to my doctors and nurses and made personal connections with them. These professionals have given me the support and knowledge I need to make this disease beneficial to my life by turning my view of this disease around to be a blessing, rather than a curse. My medical team of leaders has driven me to be a spokesperson for this disease and have supported me in my fundraising goals and educational awareness I seek. I want to be a person that helps and cares about children with diabetes." Blessed with a service-oriented nature, Maquie is one young lady who is destined to blaze trails for herself, bringing many others along the way.
WHERE SHE GIVES: 
Juvenile Diabetes Research Foundation (JDRF) 
Camp Kudzu 
CHOA  
MV Ambassador Prefect  
MV Innovation Diploma Executive Team Member  
MV National Honors Society Secretary